The 8th Edition of OSH India Awards& Safety Fashion Walk Organised at OSH India Expo on 24th Nov
OSH India Awards is a unique initiative intended to recognize HSE officers and organisations that implement path-breaking occupational safety & health solutions across various industry verticals. To give you an idea of the scale of the awards, we received 245 nominations in the previous edition in 2019 which increased to 341 nominations for this year's Awards. The final jury meet to select the winners was held on 16th November at Informa Markets in India office in Mumbai. Ernst & Young (E&Y) are the process advisors for these awards and winners were announced at a glittering ceremony on 24th November 2022 at the OSH India Expo venue. To add some spice to the Awards evening a Safety Fashion Walk was also organised wherein top brands in the workwear domain showcased their latest designs through gorgeous models sashaying down the ramp.
Esteemed jury
Satish Anant Tikhe, Rtd. Additional Director, DISH Maharashtra (CHAIRPERSON).
Suresh Karande, Rtd. Joint Director, DISH Maharashtra.
Ramesh Bagi, Corporate AGM (retd), Godrej & Boyce Mfg Ltd.
Yogesh Srivastava, Head – EHS & Sustainability, Tata Projects.
Vandana Kudalkar, Ex-Member, National Safety Council.
Indranil Chakraborty, Senior General Manager & Head of OSH&E, Thyssenkrupp Industrial Solutions (India) .
Kevin Chothani, President, Board of Certified Safety Professionals – India Chapter.
OSH India Safety Fashion Walk
To promote safety among the Indian workforce, OSH India 2022showcased a Safety Fashion Walk along with the prestigious OSH India Awards 2022. This glittering evening hosted a galaxy of industry stars to become a unique networking extravaganza mixed with powerful business opportunities. A three-hour function on the Day 1 evening of OSH India in Mumbai, the Safety Fashion Walk was attended by over 300 who's who within the occupational safety and health industry. Models walked down the ramp to showcase the latest in safety work wear, shoes, equipment, PPE and much more.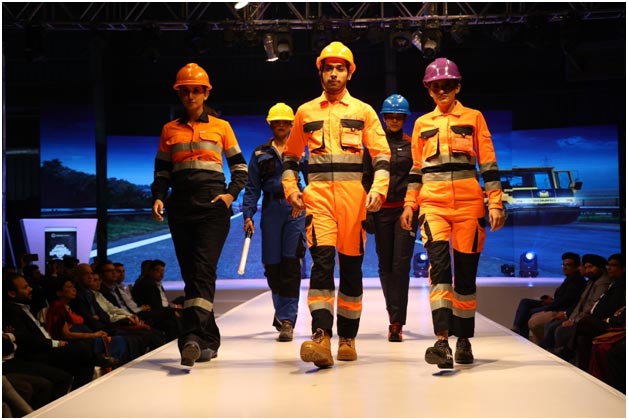 OSH India Awards Winners List:
Category
Winner
Environmental Management - Construction
Afcons infrastructure limited
Environmental Management - Manufacturing
TE Connectivity India Ltd
Environmental Management - Services
Adani Ports and Special Economic Zone Limited
Excellence in Employee Competence - Construction
Afcons infrastructure limited
Excellence in Employee Competence - Manufacturing
Ambuja Cement ltd
Excellence in Employee Competence - Manufacturing
Aragen Lifesciences
Excellence in Employee Competence - Services
TP Southern Odisha Distribution Limited
Excellence in Innovation - Electrical Hazards
TP Southern Odisha Distribution Limited
Excellence in Innovation - Fire and Disaster
Hanon Automotive Systems India Pvt Ltd
Excellence in Innovation - Others
Aragen Lifesciences
Excellence in Innovation - Safety Hazards (Slips, Trips, Falls, Equipment)
Ion Exchange India Ltd
Health and Safety Initiatives - Construction
Rohan builders (I) Pvt. Ltd
Health and Safety Initiatives - Manufacturing
Laurus Labs Limited
Health and Safety Initiatives - Services
Naresh Kumar & Co Pvt Ltd
Safety and excellence awards - Electrical Hazards
P Prabahahar - Summit Digitel Infrastructure Private Limited
Safety and excellence awards - Fire & Disaster
Capt. Pranav Anand - Shapoorji Pallonji Armada Oil and Gas Services
Safety and excellence awards - Material Handling
Pankaj Kumar - Ambuja Cement Ltd
Safety and excellence awards - Other
Ratnadip Trivedi - Adani Ports and Special Economic Zone Limited
Safety and excellence awards - Safety Hazards (Slips, Trips, Falls, Equipment)
SP Armada Oil Exploration Private Limited
Special Jury Mention
Mr. VB Sant, Ex-DG, DGFASLI
Ms. Wendy Leslie Pereira, MD, Leslico